BRUCE LEE AND THE GREEN HORNET
(1966-67)
Directors: William Beaudine, Norman Foster, Robert L. Friend, Murray Golden, E. Darrell Hallenbeck (as Darrel Hallenbeck), James Komack, Leslie H. Martinson, Larry Peerce, Allen Reisner, Seymour Robbie, George Waggner
Cast: Van Williams, Bruce Lee, Wende Wagner, Lloyd Gough, Walter Brooke
The plot is that Britt Reid, daring young owner/publisher of "The Daily Sentinel," dons a mask and fights crime as The Green Hornet. While the police and public believe the Hornet to be a ruthless criminal, the District Attorney knows Reid's secret identity, and welcomes his assistance in fighting racketeers and criminals.
Also assisting Reid in his crusade are his secretary, Lenore Case, and his faithful valet, Kato (Bruce Lee), who is a kung fu expert and who drives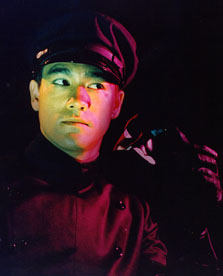 the sleek "Black Beauty," the Hornet's well armed car.
Click on the logo and you will discover that this tape contains three episodes from the campy, cartoonish 1960s TV series "The Green Hornet," featuring martial-arts legend (Bruce Lee (1940-1973) as the masked hero's Asian sidekick, Kato. The tape also includes (Bruce Lee's screen test, which led to his casting in the show. Although his kung fu stole all
of the action scenes (establishing the pattern that Jet Li followed recently in "Romeo Must Die" with great success) from the title character (Williams), (Bruce was still forced to play Kato as either a white-jacketed "houseboy" or a masked chauffeur--in other words, as a subordinate!?!?!?! (Visit the Articles Section for more examples!?!?!)
Watching "The Green Hornet" today, it's fascinating to see (Bruce's lithe, lightning-like martial-arts moves. But at the same time, it's infuriating to see such a potential star cooped up in a subservient role. Still, this video is a good opportunity to see some of Bruce's work before his rise to kung fu stardom in Hong Kong. And judging by the title of the tape, it looks like Bruce gets the last laugh. (Interesting tidbit: Burt Ward, of Batman T.V. Show fame, thought that he could "beat-up" on (Bruce during an episode where Batman and Robin team up with the Green Hornet & Kato. Burt, after witnessing Bruce's skills, was petrified during the shoot in the fear that he would be severly injured!?!?!
PARADISE HAWAIIAN STYLE
(1966)
Directors: Michael Moore
Cast: Elvis Presley, Suzanna Leigh, James Shigeta, Donna Butterworth, Mariana Hill, Irene Tsu, Linda Wong, Julie Parrish, Jan Shepard, John Doucette, Philip Ahn, Mary Treen, Don Collier, Chanin Hale, Doris Packer, Grady Sutton, Gigi Verone

James Shigeta plays Elvis' partner in a helicopter tour company and an excuse to hear Elvis sing his many drab songs in this tired plot that is typical of many of Elvis' movies. Besides the many women (many of them are Asians), we see Mr. Shigeta being portrayed as an equal and not as the "token" Asian/Asian Pacific American! The 1960's have treated him well and in many roles that Asian Pacific Americans are not receiving today.

This movie is not significant because of the film's merits, but as the result of James Shigeta receiving billing (obviously below Elvis), with a White wife, comparable screen time with Elvis and in a prominent film during that time!

site design by Asian American Artistry
for any questions regarding the content, please contact Asian American Artistry
Copyright ę 1996-2005 - Asian American Artistry - All Rights Reserved.